Certified: SERVPRO Cleaned
When our logo is on your door, your commitment to clean is clear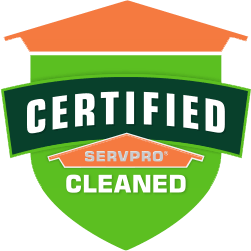 While the COVID-19 pandemic has changed what it means to be clean, SERVPRO is here to help keep your customers and employees safe, and also let everyone know you've chosen a higher standard of clean.
Certified: SERVPRO Cleaned is a defensive, proactive viral pathogen cleaning program backed by our more than 50 years of experience in cleanup and restoration. With an industry-leading, proprietary training program, cleaning solutions, and remediation processes, we're helping businesses across the country open safely. So make the commitment to keep your employees and customers safer. Make sure your space is Certified SERVPRO Cleaned.
CONSULT
A tailored cleaning program to meet your needs.
We will assign you a Cleaning Protocol Specialist who understands your business.
Programs are based on a range of factors: type of industry, business type, size of space, amount of high frequency touch points, foot traffic and congestion points.
CLEAN
Proactive and COVID-19 emergency response cleaning program.

Trained and experienced in biohazard cleaning and decontamination for porous and non-porous surfaces - always adhering to the highest standards set by the CDC.
EPA-approved products, including our proprietary cleaning agent ServprOXIDE, a hospital-grade disinfectant that is NSF certified for direct food contact surface use.

CERTIFY
A commitment to clean for your employees and consumers. 

Leverage SERVPRO's trusted brand to reassure your customers and employees that you are taking the steps needed to keep your space at the highest level of clean.
Communication touchpoints include a Certified: SERVPRO Cleaned window emblem, signage, marks for your digital footprint and more. 
*#1 Choice in cleanup & restoration based on Commercial Attitude & Usage Tracking study. Polling 816 commercial business decision makers on first choice for future needs related to cleanup & restoration work. Study conducted by C&R Research: October 2019.
** Certified SERVPRO Cleaned means professionally trained SERVPRO franchisees perform the job according to proprietary SERVPRO protocols and recognized industry standards (CDC, RIA, IICRC) with EPA-approved cleaning products to deliver a SERVPRO certified cleaning experience and result.