2015 NJ Run For The Fallen
9/14/2015 (Permalink)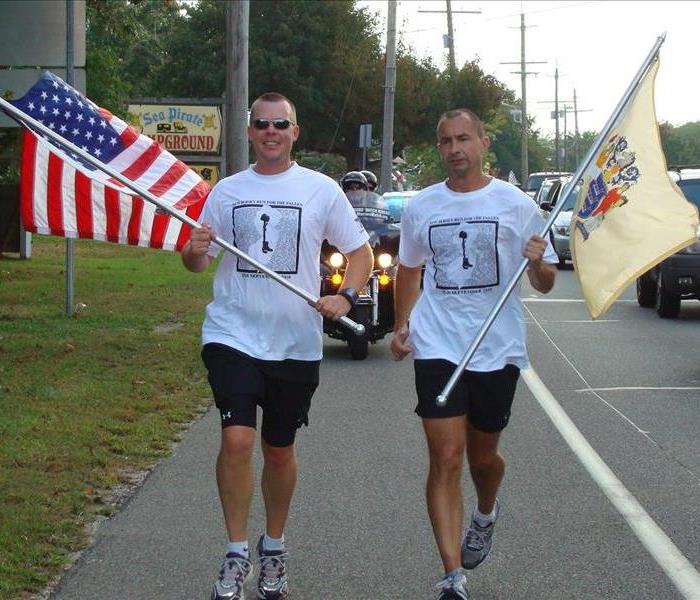 September 23-27, 2015

In an apolitical reflection of remembrance a team of active duty military personnel from Joint Base McGuire-Dix-Lakehurst and other bases across the US will come together to embark on a 188 mile run that honors every NJ service member killed in support of Operations Iraqi Freedom, Enduring Freedom, New Dawn, and all Wars and Conflicts.

Each mile is dedicated to a NJ Hero and their family. The run team will stop at each Hero Marker presenting a flag and personalized biography to waiting loved ones and comrades with the goal of creating a 186 mile memorial trail through NJ.

Wednesday, September 23, 2015
Please join us at 5:30pm Wednesday evening as we join the Hume Family at Sunset Beach for a special flag ceremony which is dedicated to all of the New Jersey Fallen Service Members. Many families of those who gave their lives will be present for this ceremony along with the runners and run support team. This is an emotional and touching event that we encourage everyone to attend. It is important to the families that we do not forget the sacrifice they and their loved ones made for our country.

Thursday, September 24, 8:00am, the team will leave Cape May Lighthouse and run through Cape May Point, Lower Township, City of Cape May, West Cape May, Wildwood, Stone Harbor, Avalon, Sea Isle City, and finishing in Ocean City at 5:00pm at AL Post 524.

For full details please visit our website at www.NJRunForTheFallen.org and follow us on Facebook at www.facebook.com/NJRFTF.