Save Money - Prevent Water Damage!
3/20/2020 (Permalink)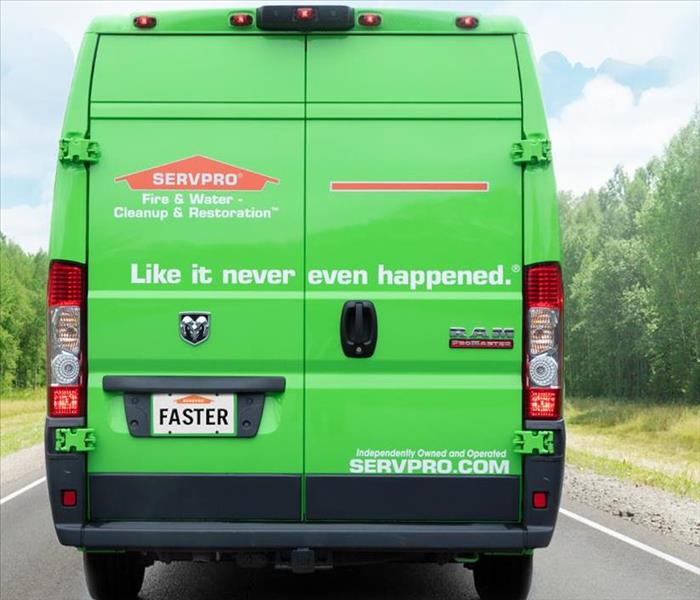 Water damage is the No. 1 culprit that weakens your home's foundation and what holds your house together.
Preventing water damage is a lot cheaper than paying for repairs. Here's how to prevent water damage using three easy strategies that will give you peace of mind the next time heavy storms hit. Here are three easy prevention tips:
#1. Ensure Good Drainage
Poor drainage weakens your foundation, causing cracks, uneven settling, and pathways for water to enter your home.
Clean your gutters routinely. A clogged gutter will send cascades of water down the side of your house, damaging your siding and foundation.
Ensure your downspouts direct water 5 to 10 feet away from your house.
Make sure your yard is sloped at least 6 inches over a 10-foot span away from your foundation. That slope keeps water from getting down right next to your foundation, where it could cause walls to lean, crack the masonry, and create leaks. (For crawl spaces, keeping water away makes sure excess water doesn't pool underneath your floor, making for damp conditions that encourage mold, rot, and insects.)
#2. Test Your Sump Pump Regularly
Sump pumps come to life during storms. That's not when you want to realize yours isn't working properly. You should check it at least once a year, and ideally perform several checks during heavy storm seasons.
How to test your sump pump: Slowly fill the sump pump pit with water. Watch for the "float" (similar to the float in your toilet) to rise, which should turn on the pump. Then watch to make sure the water level falls.
Test your backup pump the same way, but unplug the main pump first. If you don't have a backup pump — or a generator — and are on municipal water, get one that runs on water pressure. If you're on well water, your only option is the battery kind.
#3. Check for Water Leaks and Fix Them
Persistent leaks lead to mold and mildew, rot, and even termites and carpenter ants (they like chewing soggy wood, since it's soft). Yet if you fix a leak soon after it starts, there may be no long-term damage at all.
How to check for leaks: Check for dark spots under pipes inside sink cabinets, stains on ceilings, toilets that rock, and of course drips.
At least once a year, inspect your roof. Repair missing, loose, and damaged shingles. Repair any cracked caulking and check for leaks around flashing.
So now you know how to prevent water damage — and add years (and lower maintenance costs to your home)! Of course, if water damage DOES affect your home, call a Franchise Professional to answer your questions and address your concerns: 609-624-0202 .
SERVPRO of Cape May & Cumberland Counties is Here to Help and Ready for Whatever Happens in Cape May County and Cumberland County. We serve communities in and around Cape May, Marmora, Ocean City, Sea Isle City, The Wildwoods, Bridgeton, Fairton, Millville, Vineland, and the Port Norris area. We're Here to Help 24/7.